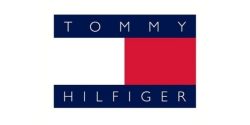 TOMMY HILFIGER is one of the world's leading designer lifestyle brands and is internationally recognized for celebrating the essence of classic American culture, featuring their signature red, white and blue combinations, in timeless streetwear styles.

The Barbour story began in 1894 in the Market Place in South Shields. Today the 5th generation family owned business remains in the North East,  having gained three Royal Warrants by Her Majesty the Queen, HRH The Duke of Edinburgh & HRH The Prince of Wales . Barbour's classic wax jackets are still manufactured by hand in the factory in Simonside.

Simplicity is at the heart of everything we do, and we strive to make everything not only beautiful but also useful. Our products have a utilitarian feel but at the same time we only use the softest, most comfortable and beautiful fabrics available, and always speak of the beautiful place we live, and work, Cornwall.

That's why we like to think of ourselves as more than just a brand. We're brotherhood, a club, a community – bonded by denim . And in that community, we have one objective – being there for our guys. Our universe is a drama free zone, it is shopping made easy. It's good jeans with good vibes. This is the philosophy behind our brand.

Everyone has an old, trusty favourite in their wardrobe. You know the one we're talking about; the well-loved jeans or 'washed 100 times' T-Shirt that puts you in a good mood the moment you put it on. When Saturday morning rolls around and it's time to escape the daily grind we just want to kick back in our feel-good favourites and enjoy the good times. Every piece of our clothing starts with that feeling in mind because we deserve this sort of comfort every day.

The Fynch-Hatton team will continue to strive to offer its customers stylish, high quality fashion that suits every situation in life. The ultimate goal is to remain flexible and honest and, as Denys Finch Hatton has already done, not to be afraid of adventure.

"Contemporary country loving" is at the heart of the Joules brand and provides the vision we all work towards. Our in-house creative team take inspiration from nature and the changing British seasons to design clothing that enables our customers' lifestyles, come rain or shine. We stand out with our unique use of colour and print – all of which are hand-drawn by our in-house team – as well as unexpected details. The Joules brand is all about connecting with life's happy feelings and embracing quality time, doing the things we love with the people who matter.

What started as an invention for the American worker became the uniform of progress. Worn by miners, cowboys, rebels, rock stars, presidents and everyday men and women, these functional pieces were the clothes people not only worked in—they lived their lives in, too.

Our heritage is important. Born in a bar, not a boardroom, we're not afraid to be different (or better, or original); making a meaningful difference is at the heart of what we do. We are a continually evolving creative lifestyle brand, crafted and shaped by the people who love us most (aka you and the wonderful people who work with us). Whilst we are independent, free spirited and optimistic, we always stay true to our heritage and values.
We like to inspire and surprise our customers in an engaging way, building relationships. We may be bold but like to be understated. We like to create special things. Original designs, one-of-a-kind prints, little details (hidden or seen) and those extra special touches are our thing that sets us apart.